So you might remember just a few short weeks ago, we decided to trial buying a wedding dress online in Part 1 of our Buy Local Vs. Online blog series.
Well – after just TWO short weeks – the dress is here!
Lets just refresh our memory with the pictures of the dress we chose……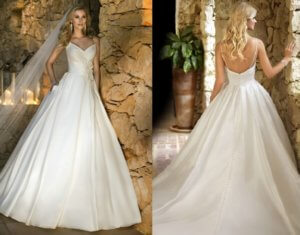 You'll remember there were a few things about this dress that we LOVED – most notably was the POCKETS! And boy – were we EXCITED about those pockets!
Before we tell you about the dress that we actually received – let us tell you a little about the buying process. We were quite impressed with how easy the process was. Before we placed our order we made sure to check out the sellers feedback – all seemed to be okay. We were also really impressed to hear from the seller pretty quickly confirming the details of the dress that we ordered and asking us if we'd like to have it made to the stock size or if we'd like it to be custom made! Well, that seemed like a pretty decent option and would save us the hassle (and the cost) of having to have it taken in or up a few inches on arrival – WIN!!!! So – with measurements taken and sent, and confirmation from the seller received we began to eagerly anticipate the arrival of THE DRESS!
Just a few days later we received confirmation that the dress was on its way – and even better – we were sent the tracking number so we were able to see when it left China and when it arrived in New Zealand. We could even see when it had cleared customs and when it was on the truck on its way to us! WOOHOOOO!!!!
It arrived in a courier bag and at first glance – we were pleasantly surprised. We won't bore you with pictures of what it looked like when it first arrived – we're sure you can image that it was pretty creased and crushed after being crammed into a teeny bag for a week and any pictures of that really wouldn't do it any justice – so we took the dress down to Churchwood Bridal where Kelly set about steaming it to make it beautifully crease free and we began the job of comparing it to the original.
So……here's the part you've all be eagerly waiting for….how did the dress match up?
Here's a first glance – side by side – of the two dresses – the original gown on the right which retails for $2095 and the version we purchased on the left for around $220 (including delivery).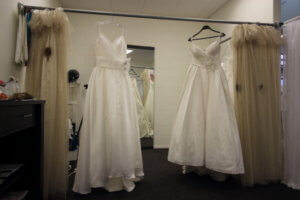 The differences to the dress were immediately obvious. Firstly the fabric was QUITE different. The original dress is made from a beautiful matte silk – the dress we purchased had a satin(ish) underlay with a strange extremely shiny nylon-like mesh material. The material is quite unlike anything we've seen before on a wedding dress – we've been trying to figure out what it feels like and the closest comparison we could come up with is that it's not entirely unlike the material a shower curtain might be made of…..the material is quite sheer – again – also unlike the original dress (although thankfully due to the satin underlay the dress is not see-through).
Here's a little close up of the sheer fabric……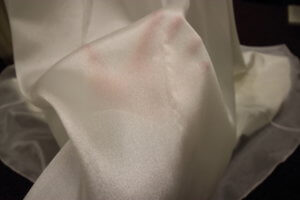 Sadly, while steaming the dress we noticed quite a lot of dirty marks. Some of these looked like pen marks while some looked like the dress had already been dragged along a dirty floor. The dress also has a strange chemical like smell – again – we're unable to say exactly what it smells like but it wasn't entirely pleasant and after being around it for a while – it starts to make you feel a little nauseated. If we were going to get married in this dress – there's already an additional cost – the dress would need to be cleaned before wearing. We called our local dry cleaner to find our how much this would cost. Drycleaning a wedding dress STARTS at $160 – and would possibly be more depending on how difficult it would be to get the marks out.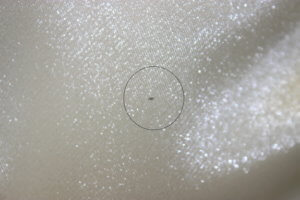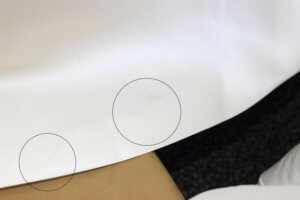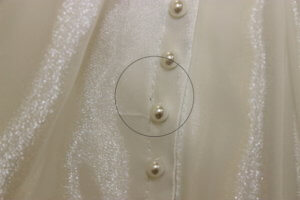 Now the fun part – it's time to put the dresses on and compare them.
At this point we'd like to remind you that the dress we ordered on-line was made-to-measure. The original dress is a stock gown at Churchwood Bridal and therefore is a standard stock size.
Here's Mrs TW wearing the dress we ordered online….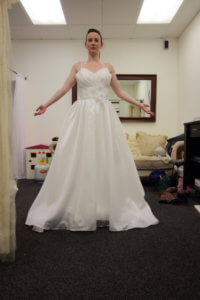 The first thing we'd like to note is despite not liking the texture,feel or shine of the fabric – the creases dropped out quite easily with some steaming and the fabric does fall quite nicely.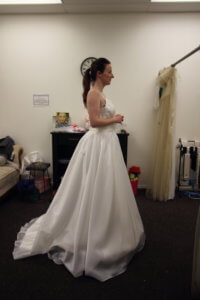 Secondly, unlike the original dress – the belt is actually separate – this added a quite a bit extra bulk around the waist (especially as there were "buttons" on the belt as well as underneath) – we're pretty sure no bride wants to add to her waistline!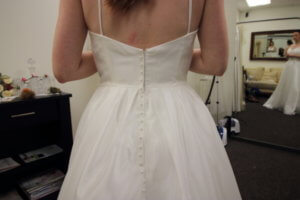 As you can see – the dress didn't exactly "fit" – it was considerably too big around the bust and waist and FAR too long! Sadly, although this dress has some boning, it has very little structure and no support – as Mrs TW is a reasonably busty girl this is of SIGNIFICANT importance and so Mrs TW had to wear a strapless bra in this dress. Despite standing on a pedestal here, that is higher than any heels we'd consider wearing, there is still quite a lot of fabric pooling on the floor. We gave the dressmaker all of Mrs TW's measurements – including the height of the shoes we'd chose to wear with this dress – the dress doesn't fit and would need significant alterations…..this would be another additional cost (on top of what we already paid).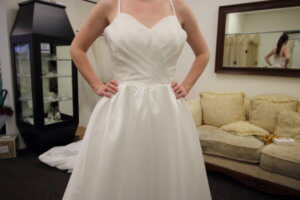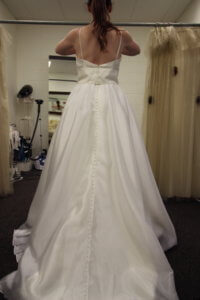 Now – a little look at some of the upclose details of the dress. To be TOTALLY honest – at first glance the dress seems to be relatively well made (considering we paid 1/10 of the price of the original) – but some closer inspection revealed a few disappointing details.
Around the waistline of the dress doesn't feel quite right – so we took the belt off to take a closer look (a few pop studs held it together – it was totally unattached to the dress)…..there was quite a lot of strange bunching around the waistline of the dress. Its quite hard to see in the photographs but the skirt part of the dress seems to bulge upwards away from the waist. You can also see in the above picture just HOW large the dress was up top. Closer inspection also revealed that the moulded cups on the inside of the dress were fitted upside down giving the dress a very odd shape across the bust.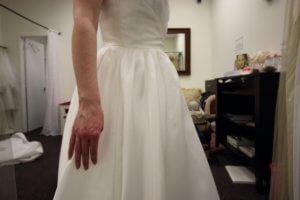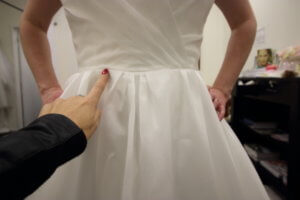 A closer look at the detailing of the flowers on the belt led to further disappointment…..the flowers are very poorly constructed with a combination of fusing, glue and stitching….we wouldn't be entirely confident of this construction work lasting the day…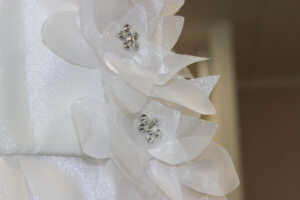 Something about the neckline of the dress also didn't seem quite right – the dress felt twisted and awkward on and the neckline wasn't symmetrical with one side being a slightly different shape from the other….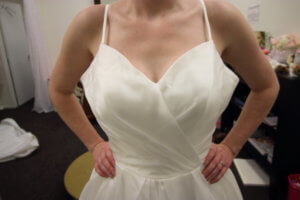 In total fairness – a lot of the above issues, the sizing, the shape and the cups COULD be corrected – no doubt at a significant cost however.
But then we come to the two most disappointing factors of all on the dress…..there were TWO things about this dress that Mrs TW loved above all else. The first was the delicate and beautiful little pearl buttons running right down the back of the dress. At first glance – they appear to be there…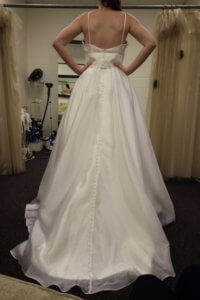 but when you look up close – NOPE – they're not buttons – they're little plastic beads……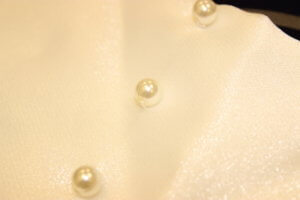 You could probably argue that this is a minor detail and one not worth complaining about….and you'd probably be right….but all the same…not the same as the original…..
(these photos also serves as an excellent comparison in terms of the fabric)…..
And lastly this brings us to the BIGGEST disappointment of all – THE POCKETS!!! The dress we bought online DOESN'T have the pockets!!! Despite the picture of the dress CLEARLY showing the model standing with her hand IN her pocket….our dress has none. This caused MAJOR sad faces in the TW office!
As a comparison – here are a few photos of Mrs TW wearing the original dress WITH THE POCKETS!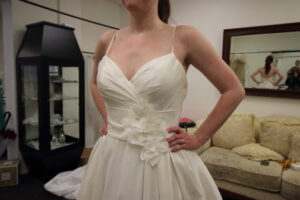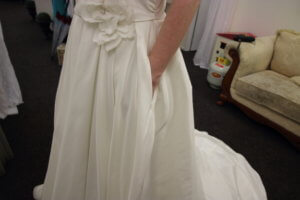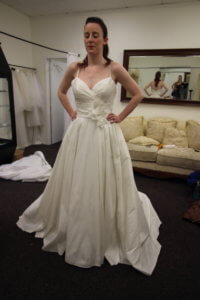 Despite being a stock size the original dress fits significantly better. It feels lighter and much much more supportive – so much so that Mrs TW has tossed aside the strapless bra. And even though this dress IS still a little too big (it is, after all, a store sample) the overall fit and feel of the dress is better.
We finished our comparison session by popping the dresses on side by side mannequins that are the same size, with Kelly using some of her magic tricks and clips to pull both dresses in to "fit"the mannequins.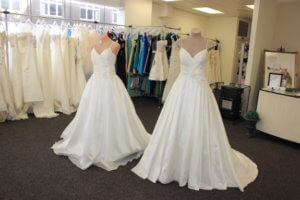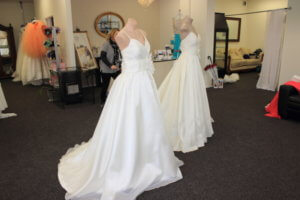 And just for some comparison, here's a little up close detail – with the original dress on the top and our online dress on the bottom.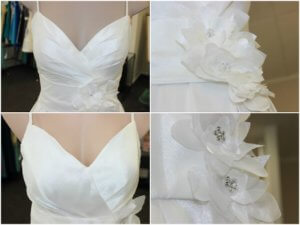 Overall – the finish on the original dress is just better. Of course, you might say, it's 10 times the price. And so this brings us to the main question – are we getting a better deal online?
And thats the tricky question. For us – we think in this case – no – we didn't get a better deal online. And here's why:
Our dress arrived dirty and has a strange smell and would need dry cleaned – so already – that's an extra $160. Also – the dry cleaner CANNOT guarantee that he can get the marks out. Then what? No bride wants to wear a dirty dress on her wedding day!
Our dress doesn't fit – despite being made-to-measure – it needs major alterations – more cost.
The fabric, despite falling nicely, doesn't FEEL nice. It also doesn't LOOK as nice as the fabric on the original dress. Its extremely shiny and reflective – this made the dress a NIGHTMARE to photograph and the delicate details of the dress got completely lost.
The belt – it just doesn't look good. Its bulky and the flowers look, for want of a better word, cheap. Yes – we could have them removed or put on a different belt – but again MORE COST!
The "buttons"- they're not buttons – they're beads and the more we look at them – the more obvious it becomes.
The pockets – there aren't any. Given that these were one of the reason we picked this dress. This is a big disappointment.
Most importantly – this is NOT the same dress. And this is the big issue. If the seller had a photograph of the dress we received (instead of using images from Stella Yorks website) and that was what decided to order, then we wouldn't have been disappointed. But this ISN'T what we ordered. We fell IN LOVE with a dress, and we saw the photo of the same dress and this is what we expected to receive. It's not what we received. We were deceived.
The truth is that if you want a designer gown then you're going to have to buy it from an authorised retailer. Designers DON'T sell their dresses on Ebay, AliExpress, DHGate or JJS House (or any of the countless other sites) – the photos you see on these websites are NOT the dresses you will receive. Sure – there might be someone who can do a decent job of replicating a designer dress. You might be one of the lucky ones and you might actually receive something you love but if you're a bride planning your wedding – this is a HUUUUUUGE risk! In our mind – it's really NOT a risk worth taking. It's your wedding. It's your ONE DAY to feel like the most beautiful woman in room – no – in THE WORLD! You deserve to wear the dress of your dreams – not have your dreams SHATTERED when an ill-fitting, odd-smelling, dirty, cheap feeling dress arrives.
Of course we know that not everyone can afford to spend $2000+ on their wedding dress. We appreciate that there are a lot of brides on a small budget and ordering a dress online seems like the ideal solution. But what if, like us, your dress arrives and doesn't fit and needs alteration, or cleaning….do you have the budget for the additional costs? Is it worth risking the little savings you do have? What if there was a better option?
So here's what we've done – we've taken a look around and here are JUST A FEW of the options out there for someone shopping for a wedding dress on a limited budget….
We took a look through Churchwood Bridals sales rack….
BOTH of these dresses were on sale for $250 or less!!! That's a well made,designer gown – for $250!!!!
Or – check out stores like Forever New (an Australian and New Zealand High Street Store) where we found this stunning dress for $149.99 – with FREE DELIVERY.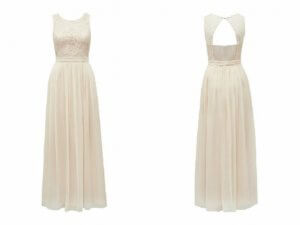 Or – you could go down the second hand route and bag yourself a designer bargain on Trade Me – just MAKE SURE you go and try the dress on before you buy – so you know that the dress you're looking at is what you'll actually get. You could even scour through local op-shops, thrift stores or your local Buy 'n' Sell Group! Here are a selection of some of the gorgeous designer bargains we found second hand on Trade Me for under $250!!!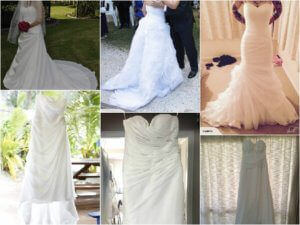 Our best advice is think carefully before buying online….. You wouldn't buy a car without test driving it first would you? You would't buy a pair of skinny jeans without trying them on first would you? Don't buy the most important dress you'll ever wear without seeing it, holding it and wearing it first…because sometimes a good deal really is TOO GOOD TO BE TRUE!!!!