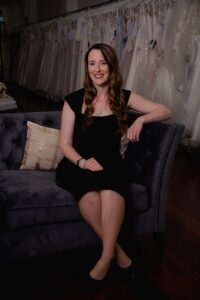 Hi – I'm Louise – the owner of Taranaki Weddings and Churchwood Bridal. And I want to help you level up your Wedding Biz.
After over a decade working in the Industry in multiple capacities – I'm excited to enter the next phase of my career – mentoring the next generation of Wedding Professionals – giving new and upcoming businesses the opportunity to benefit from my time spent working in the Industry and my unique knowledge base.
Whether you're a new vendor just starting out and trying to find your place in the market, whether you're considering buying an existing business or you already own a small wedding business but you're looking to take your side-hustle to the next level – I want to work with you.
A little about me and my experience in the Industry:-
As I said before – I've worked in the Wedding Industry for over a decade now. Like many others – I dipped my toe in the industry with a small side hustle business, creating Wedding Stationery, while I worked full-time in Supply Chain Management and studied art part-time. I also did a little wedding singing on the side – but that was more of a passion project than a business. In 2014 the opportunity to purchase Taranaki Weddings (of which I was already a listed business) presented itself and there I found the role that made me take my Wedding Career to the next level. I quit my job and turned my passion for the Wedding Industry into my pursuit. Since I purchased the business in 2014 I've taken it from a small online Directory to an established and award-winning events and marketing business – we host regular industry specific networking events, annual expo event, and have launched and hosted the first Wedding Industry Specific Awards in the country 6 times. The Taranaki Weddings Show was the first regional Wedding Expo to take place after the 2020 Lockdown and is the only Wedding Expo to have consistently and successfully continued through the last few challenging years.
In 2016 another business opportunity presented itself – to purchase Established business Churchwood Bridal, as a going concern. Whilst I had very limited retail experience and absolutely no Bridal Industry experience – I knew it was an opportunity I couldn't walk away from and 7 years later we've become a highly respected Bridal Boutique both locally and across the country – our business has experienced significant growth and moved into a bigger store, our team has tripled and we're three time Industry Award winners and Taranaki exclusive stockists of a range of international designers.
Why choose me as your Business Mentor?
I can offer a unique perspective that no other Vendor in our local Wedding Community can. Across the course of the last decade I have worked with hundreds of Wedding Vendors and thousands of Brides and Couples planning their weddings. This has equipped me with, not only, a vast knowledge of the unique needs of the range of businesses that service this niche industry – but I've also developed a strong understanding of how their clients think, what they're looking for and what they need from the businesses in the industry.
Despite not being born and bred in Taranaki – I have called this beautiful province my home since 2008 and I have always been incredibly passionate about supporting and promoting our local Wedding Community. Our isolated location, our stunning scenery, our temperamental climate and our friendly community are just part of what I love about the region and I'm dedicated to nurturing the wedding vendors who also call it home and providing a platform for them to grow their own businesses.
Our established Directory and suite of events have been catered to the unique needs of our local Wedding Community – taking into consideration the niche and seasonal aspects of their business. The challenges that have faced the Weddings and Events Industry through the recent global pandemic gave me, as a business owner, an opportunity to learn and to pivot my businesses directions during difficult economic times – both my businesses have not only survived but thrived through the pandemic. The lessons I've learnt about overcoming challenges and forseeing, planning for and adapting to the changing economic environment have equipped me with valuable knowledge and lessons to pass on to you.
My time as the owner of both Taranaki Weddings and Churchwood Bridal has given me the opportunity to establish key relationships with Vendors from across the region and beyond, as well as with service providers from outside the Industry who can further service the needs of your business. I've gained experience as a sole trader, as a business owner and as an employer and can offer guidance on employment issues, business acquisition, business management, marketing, effective networking and more.
What do I offer as a Business Mentor?
As your business mentor – I'm here to offer you support and guidance. It's not my job to tell you what to do – but instead, to be patient and listen, to act as a sounding board for your ideas, to help stimulate your thinking and to challenge you to think outside the box.
If you're a new vendor – I'm here to help you work out who your ideal client is and how you can find them, to support and encourage you to set and achieve your goals and to support you as you develop and improve your strategies. I can help you to connect and build relationships with other key providers in the Industry and support you as you establish your place in the market.
If you're an established Vendor who feels that they've lost momentum or can't figure out where to take their business yet – lets take it back to basics, remember why you started and re-inject some passion back into your pursuit. And if, like I did, you're buying an existing or struggling business and want to put your own stamp on it, re-brand and relaunch – I can offer you guidance and support and the wisdom of my own experience.
A business mentor is not the same as a business advisor – it is not my role to tell you how to make or spend your money – but share my experiences in growing my businesses with you in the hopes that you can learn and grow from them – to offer you the wisdom and benefits of my experience.
Whether it's how to get started in the Industry, how to market to your preferred client, how to best showcase your business, how to connect and network with other vendors or how to prepare for your first Wedding Expo – I'm excited to work with you and help you set your goals and achieve them.
What I don't offer?
Business mentors don't offer Industry specific training – however during the mentoring process I can and may make recommendations for specific experienced businesses who can further assist you.
I don't offer legal or financial advice – businesses should always seek legal and financial advice from trained professionals – during our sessions I'm happy to make recommendations for legal or financial advisors that I have worked with.
The benefits of having a business mentor:-
Finding and working with the right business mentor can help to open new doors for you and your business. Your mentor should have experience and connections in your Industry and can not only offer you the benefit of their experience and wisdom but can help to connect you with others in the Industry. A good mentor will have resources, experience and contacts that would otherwise be unavailable to you.
How do my mentoring sessions work?
Mentoring sessions are offered on an hourly basis and are tailored to the individual needs of each mentee. They can be conducted in person at a mutually suitable venue or remotely via an online platform of your choosing.
Sessions start from $70 + GST per hour – discounts are available for listed TW members and for block bookings. Please enquire to discuss further.
An introductory 15 minute remote session is offered free of charge, and recommended, before committing to any paid sessions to make sure that my mentoring offerings are right for you.
Get in touch to find out more or to book in for your session.