Planning ahead for your late 2020/2021 wedding – well The Flower Cart has a wicked special offer for you!
Book your 2020/2021 wedding with the Flower Cart before 31st May 2020 and receive 5 button holes FREE OF CHARGE!
Check out the below and contact the Flowercart to find out more!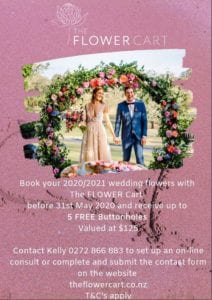 Looking to look your best for you big day? This HOT DEAL from the Caci Clinic is PERFECT for YOU!
The Caci Clinic are offering FREE Consultations and a Skin Conditioning Treatment for just $70!

2021 Brides and Grooms – you can't afford not to check out this AWESOME HOT DEAL from Amanda Ritchie Photography. 
Amanda is offering a extra special Canvas Print OR a Print Credit if you pay your deposit before the end of May 2020!

Make sure you Follow us on Facebook to be the first to know as soon as Hot Deals come in!