Hands up if you've got a Pinterest Board (or five) filled with your ideal table scapes, possible hair and make-up looks and photo pose ideas, a bedside table with a stack of beautiful bridal magazines and every episode of "Say Yes to the Dress" saved to your My Sky?
We've been chatting wedding plans a lot in our office lately (some of us may or may not be planning weddings) and all about styling ideas, dream set-ups and cakes, first-looks, first dances and all the special moments in between.
With SO many social media pages, blogs, magazines and reality TV Show's showing us the "shiny" side of getting married – we felt like maybe it was time to bust open some of the typical mythical expectations and talk about the reality of Wedding Planning and "The Big Day":-
EXPECTATION:- The Perfect Bridesmaids Proposal
So we've seen ALL sorts of inspiring Bridal Party Proposal ideas from beautiful heartfelt notes attached to a helium balloon in a beautiful giftbox, to personalised cupcakes or cookies to elaborate gift boxes exploding with unique monogrammed memorabilia, expensive beauty products, and tasty food and drinks.
The Reality……while we're not opposed to the Bridal Party gifts – they might be best kept for the big day – especially if you're a budget conscience Bride or Groom – that portion of your budget could be better spent elsewhere (for example on your Bridal Parties attire, hair or make-up).  They don't need to be elaborate – but a thoughtful token to say "Thank you for your help and being a part of our day". When it comes to "popping that question" – there's nothing more heartfelt or memorable that telling the people in your Bridal Party how much they mean to you, what impact they've had in your life and why it's important that they stand beside you on your big day. Find the perfect card and write them a beautiful note inside – something they can read and keep. The handwritten word will always be one of the most sincere gifts you can give.
EXPECTATION:- Tears and Cheers when you say "Yes" to your Dress
We've ALL watched that show – the one where the brides find the perfect dress after trying on less than 5 gowns – their entourage cry and clap, they stand up and hug you – the consultant cries and let's be honest – we wouldn't be the LEAST bit surprised if gold confetti and shiny white balloons came cascading down from the ceiling (wouldn't it be FABULOUS if that actually happened)….
The Reality……that won't ALWAYS happen! (Not going to lie – sometimes it does – well not the confetti and balloons part – but the tears and the clapping)…..but just because your Bridal Party aren't whooping in delight or crying floods of tears, just because your mum isn't weeping gently into a lace hanky or you're not welling up at the thought of walking down the aisle – doesn't mean it's not THE dress! Every bride-to-be feels different when they find their gown. Me? I didn't want to take it off, it felt comfortable to sit and move around in and I was rather fond of the way it shimmered in the light – it was Dress No. 3 or 4 – and I was sold. No fuss, no tears, no clapping. 10 years later – I'm still in LOVE.
EXPECTATION:- Replicating your Pinterest Boards
Let's not even lie to ourselves – we ALL have at least 10 Pinterest Wedding Boards – one for cakes, one for table-set ups, one for dresses and so on…..and those images are PERFECT aren't they? Take this one for example – a search for "Budget Backyard Wedding Ideas" and look at this set-up….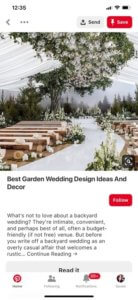 Isn't it STUNNING!!!!
The Reality…….there is NOTHING budget about this set-up – nothing at all! That silk lined marquee alone is going to cost you a pretty penny – and all those florals and greenery, the custom runner and half-log benches…..
It's SO easy to totally fall in love with Pinterest Wedding Set-ups – but the reality is – transforming these images into your wedding day is going to come at QUITE the cost. We're not saying you CAN'T have the pinterest-perfect wedding….but it won't always come easily. Instead of spending lots of time on Pinterest – check out the social media feeds for local wedding vendors and real local-wedding blogs – for realistic and achievable beautiful ideas.
And this takes us nicely to our final EXPECTATION:- Your "On the Day"Look
We're back to Pinterest for this one – how many "I-do Up-do"s do you have pinned? (I know I have AT LEAST 3 lists and I'm not even planning an actual wedding) – an abundance of bouncing curls piled precariously and finished with the perfect tiara, a stunning waist length mermaid braid adorned with tiny white flowers and crystals or a sleek elegant french-roll showing off golden hi-lights. And that's just the hair…then there's pages and pages of make-up images with beautifully winged eyeliner, the perfect cut crease, flawless skin and cheekbones to die for!
The Reality:- No matter how hard you try – your shoulder length naturally curly hair can't roll quite rightly, no matter how much time you give yourself your hair never quite grows to your waist. Here's the thing – EVERYONE'S hair is different and what works for one persons head – won't work for someone else. I'm one of those people who grow A LOT of hair….yes this means I have an abundance of hair to curl….it also means that I have a permanent halo of fuzzy baby hairs around my face and there's no such thing as a sleek look where I'm concerned – no matter HOW much hairspray I use. The BEST thing to do when trying to find your perfect look is speak to and TRUST your regular hair dresser. They handle your hair all the time and will know what they can and can't do with your hair – talk about your expectations with them and let them guide you in what will not only suit your hair but your overall look too. When it comes to make-up – never underestimate the benefits of having a meeting with or a trial with the make-up artist before hand. Not everyone SUITS a bold red lip, or can carry off a winged eye-liner….you don't want to leave things to chance ON THE DAY. Take along your pinterest board and discuss your ideas with them – but don't go in with expectations of walking out of the make-up studio looking like the picture . Who wants to look like a stranger anyway – you want to look like the very best version of yourself on your wedding day, that is after all who your fiance fell in love with.
Remember when you're planning a wedding – what you're actually planning is the the beginning of your marriage….as long as there's you and your bride/groom-to-be and you both say "I Do" all the dreams, the expectations and the realities – they're just the side dishes to what it's really all about – your HAPPILY EVER AFTER!
Happy Planning,
Mrs TW x