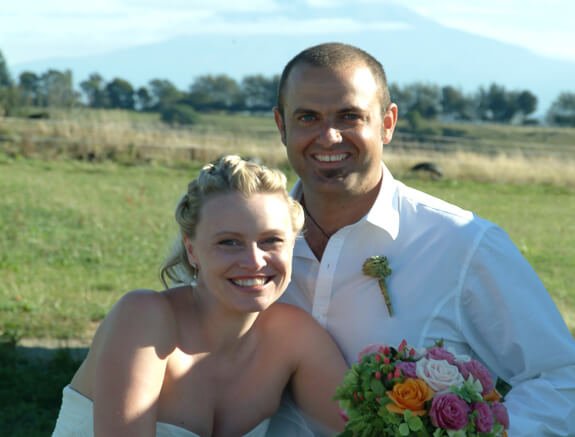 Niki and Jane live in Australia and had their wedding here in Taranaki on 21 March 2008. Niki who is originally from Taranaki and Aussie Jane, met in London ten years ago and fell for each other quickly. Niki moved to Sydney to be with Jane and years later proposed.
The couple knew instantly that they would hold their wedding at Waiau Estate Winery, where they have long enjoyed visiting the tranquil location every time they stayed with Nikis parents in Urenui.
"This was the best venue for a wedding. All our guests got to enjoy beers out of the old wine barrels, listen to the string quartet and wander around the garden eating canapes while we got our photos done" says Jane.
For the wedding itself, the bride aimed to complement her flair for romantic elegance while adding a twist of personality to Niki's kiwi heritage and love of surfing.
"I created all the invitations myself and kept the colour palette clean and soft. Nicci Goodin florist designed our bouquets with shades of pink, cream, lime green and touches of orange using roses and hydrangeas. Niks button hole was a single flax weaved flower and we used a Malibu surfboard as a table for signing our marriage certificate".
Dinner is served and guests enjoy the beauty of choosing from an a la'carte menu and wine list amongst a mixture of hydrangeas, lisanthias and candles.
"It was such a casual setting and even though it was late March, we got to have the fire going at night which added to the ambiance. The staff did all the setting up for us which was a huge help, and the service was outstanding".
The happy couple cut their two layered cake made by Strandon Home Cookery and decorated with paua shell. "We never got to have any but heard it was great!" says Jane.
The evening moved into night with an awesome 70s rock band that made the party one to remember "they were the absolute best. Everyone got up and danced, and our friends even got to have a go singing with them".
At the end of the night, Niki and Jane said their good-byes to family and friends before retreating to their accommodation – Cottage by the Sea. "This was absolute heaven. All us girls got ready there first and then Nik and I stayed there as husband and wife. It is such a stunning location, really private too!"
Photographer: Family friend. Venue: Waiau Estate. Wedding Attire: Karen Willis Holmes, Sydney. Flower Bouquets: Nicci Goodin. Table settings: Taranaki Flower Wholesalers.
Music: String Quartet and Dave Manu Band Accomodation: Cottage by the Sea. Cake: Strandon Home Cookery, Fitzroy.